PREPARE TO EMBRACE MINDFULNESS – A holistic approach to wellness in the corporate world – 9th September 2022 Crowne Plaza @6pm
September 9, 2022 @ 6:00 pm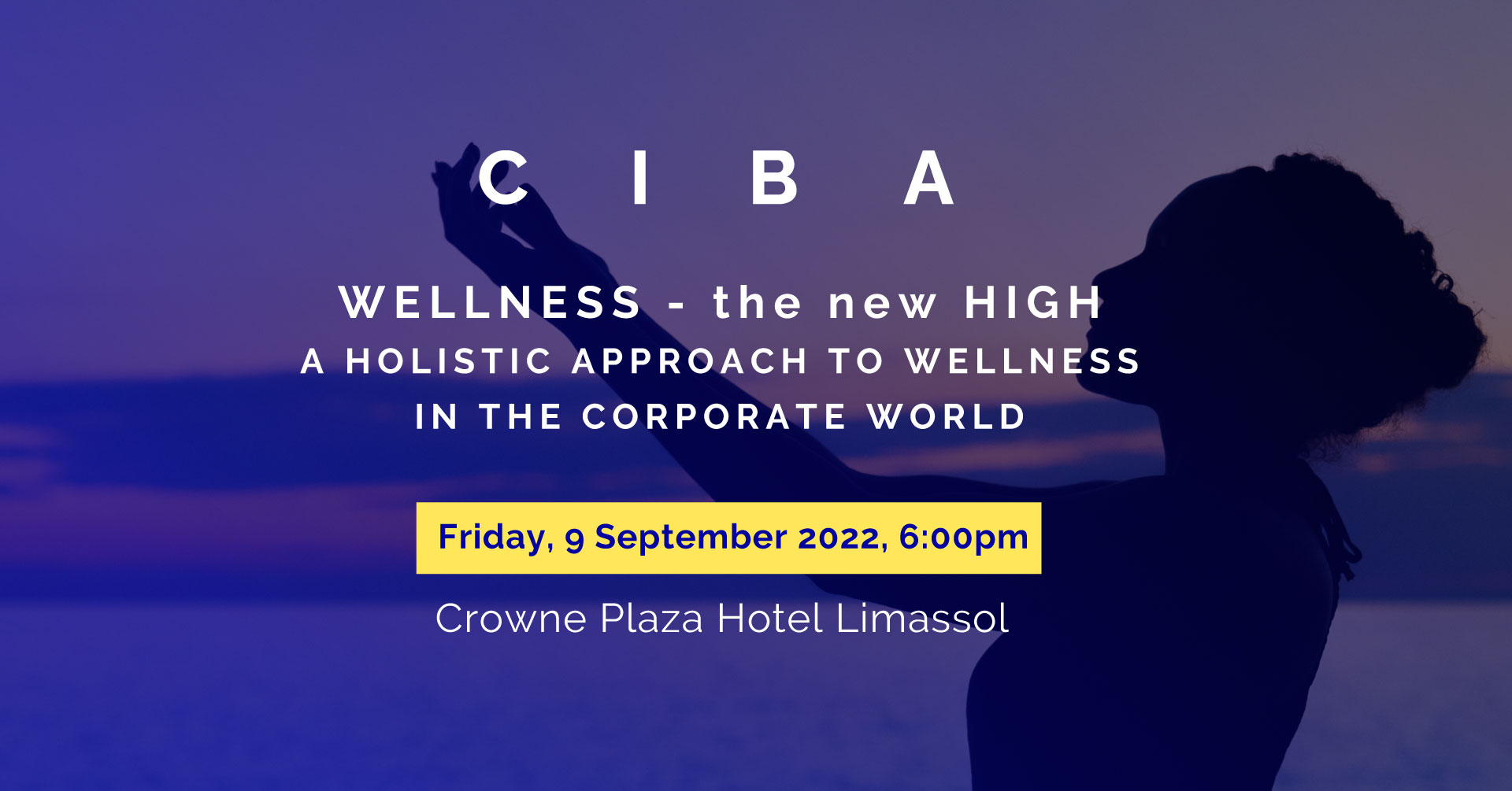 WELLNESS – the new HIGH
A HOLISTIC APPROACH TO WELLNESS IN THE CORPORATE WORLD
THE POWER OF CHOICE – Robin Nordling and Leigha Wald (Canada)
Robin Nordling and Leigha Wald specialize in helping people attain optimal results by discovering and incorporating their passions. By acknowledging the drive of the mind, the desire of spirit and respecting the voice of the body, one can attain a balanced approach to all aspects of life.
Robin and Leigha offer a range of services, including masterclasses and individual/group mentoring. When you work with them, it is a transformational experience that will empower you to create the desired change in every aspect of your life!
Healthy Mind, Healthy Body:
(suitable for all levels & ages, men and women)
Maria Constantinou – Director of Alphatec, member of CIBA and yoga instructor for Lemesos gym
Light stretching and breathing for mindfulness and reduction of stress.
· Les Mills Body Balance (fusion of Tai Chi, Yoga and Pilates) Instructor since 2004
· Hatha Yoga Teacher 200hrs 2014
· Les Mills Tribe Coach (mentoring new instructors and taking part in presentations)
· Have attended various workshops, personal development seminars etc including Tony Robbins events. Workshop with Meghan Currie
· Consciousness Coach – May 2019
· My Kind of Yoga Ambassador since 2016
· Over 17 years' experience the field of teaching and yoga.
A Functional Medicine Approach to Managing Stress
Tina Christoudias, MBA, RDN, IFMCP
Harvard Certified Functional Medicine Practitioner / Registered Dietitian and Nutritionist
Tina Christoudias is a Harvard-trained Registered Dietitian/Nutritionist and Cyprus's first Certified Functional Medicine Practitioner from the Institute of Functional Medicine in the USA with a focus in integrative protocols for hormonal and thyroid imbalance. She is the author of the book, "Tired of Feeling Tired?", has presented on various topics of nutrition therapy in podcasts, interviews, and presentations both locally and internationally, and is an advocate for patients seeking an integrative and holistic approach to health. Tina collaborates with Neomed Institute in Cyprus, providing personal and patient-directed care to those who seek her guidance.
"Self-Awareness: Through the Looking Glass"
Valencia Myint
Mental Health Counsellor & Psychotherapist
An introduction to wellness, mental health and stigma. Touching upon the definition of mental health as there are a lot of misconceptions around this issue which may distort people's perception of what mental health actually is, to focus on the mind (versus only on the body) and the mind-body connection as such, changes that we see in ourselves. Essentially going into self-awareness and staying present. In addition, she will also be speaking about stigma in relation to mental health in the workplace and how this could be a barrier to seeking help.
Event Information:
DATE AND TIME: 9 September 2022 @6pm
VENUE: Crowne Plaza Hotel Limassol
COST: EUR 50,00 CIBA Member / EUR 70,00 NON CIBA Member
WHO SHOULD ATTEND:
Everyone who needs to de-stress and wishes to empower themselves to a healthier work / life balance and coping with corporate stress.
MISCELLANEOUS:
– Duration – 1.30 hrs followed by a social hour with healthy refreshments
– Requirement: Comfortable clothes / flat shoes